2017 Texas Chapter AFS Annual Meeting
[su_heading size="20″]Don't miss Corpus Christi![/su_heading]
The 2017 Texas Chapter AFS Annual Meeting will be held at the Holiday Inn Corpus Christi Downtown Marina in Corpus Christi, Texas from January 19-21, 2017. The 2017 TCAFS Meeting Program is now available.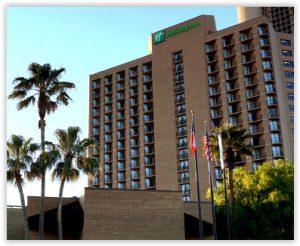 Click here to download the Holiday Inn room block flyer.
The hotel has agreed to extend the rate to Wednesday and Saturday nights – so everyone bring your families! The website for the hotel is: http://www.holidayinn.com/corpuscdtwntx
Hotel has extended block to January 6th, and added 15 king "view" rooms.  First come, first served.
King: $106
Double: $115
Block Code: TCA
Hotel Reservation #: 1-888-729-5058
Address: 707 N. Shoreline Blvd., Corpus Christi, Texas
Deadline to book your room for this year's conference is January 6, 2017.
Click here to download the meeting Registration Form. The deadline for early meeting registration was December 31, 2016.
Abstracts for oral and poster presentations are requested for the 2017 annual meeting of the Texas Chapter of the American Fisheries Society.
To submit an abstract to be considered for the technical program, please provide the following information:
Author names(s):   (presenting author should be noted with an *)
Presentation Type:  (oral or poster…please indicate whether you are willing to present the data in the alternative format if requested)
Presentation Title:
Abstract:                   (single paragraph, 300-word maximum length)
In addition, please indicate your intentions for the presentation in the 2017 TCAFS Proceedings (abstract-only or manuscript), and indicate whether the presenter is a STUDENT or PROFESSIONAL.  To be considered a student presenter, you must be enrolled at the time the abstract is submitted.  PROFESSIONAL PRESENTERS…please indicate your willingness to judge student presentations.
Oral presentations should be prepared as a 15-minute presentation (with 5-minutes for open discussion) using MS PowerPoint®.  Poster presentations should be formatted to include a title, abstract, introduction, methods, results, discussion/conclusion, and literature cited.  Posters must not exceed 48″ in any dimension.
DEADLINE FOR ABSTRACT SUBMISSIONS WAS 01 DECEMBER 2016.
Please submit your presentation abstract ELECTRONICALLY (preferably in MS Word®) to: Dan.Daugherty@tpwd.texas.gov
We look forward to seeing you at the meeting!